Take advantage of our payment options on the Coinvest Pay
Mobile App. Easily control your spend or get paid immediately.
You can also perform refunds and view your transaction history.
Introducing WhatsApp Pay. Download WhatsApp onto your Smart Device and add your Coinvest Pay Account just once to send and receive money from
anyone who uses Whatsapp.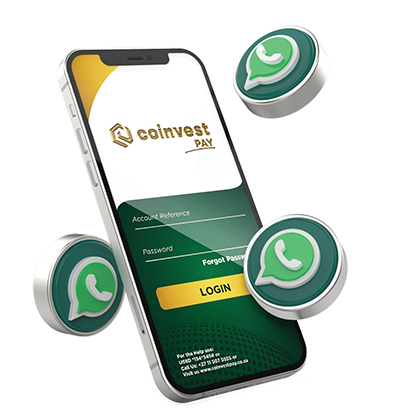 1. HOW TO SET-UP PAYMENTS
Add your Coinvest Money Account or any Visa
or Mastercard Supported Bank Account
Verify
Transfer
Money is directly transferred between bank accounts.

The payments feature on Whatsapp is powered by Coinvest Money.
Protect yourself from unauthorised activity.
Use your Coinvest Money PIN every time
you send money
WhatsApp does not store your banking PIN
or personal information.
4. VIEW ALL ACTIVITY IN ONE PLACE
Confirm the status of your transactions in the chat and view past transactions in payments settings.
EXPLORE COINVEST WHATSAPP PAY
Put more time and effort into expanding your business and less into manual tasks.
Coinvest Africa is a multi-disciplinary tech group whose
aim is to transform lives, create opportunity and empower
society through technology. We market tech innovation to
serve multiple industries at the state-of-the-art.
Coinvest Africa is a subsidiary firm of Coinvest Africa.
We provide financial technology that makes processing
payments easy, convenient and safe. Through a downloable
application, merchants are able to immediately start
receiving payments from their customers on a mobile
device using QR Code & NFC technology, or on their
websites using shopping cart and checkout links.
Merchants are also able to assign and send codes directly
on the application. Coinvest Pay is also partnered with
numerous branded vendors to allow for direct payments,
rewards as well as benefits.